"If you want to live in Hindustan then learn to say Vande Mataram.. and learn to live in your position.."
These lyrics are from a music video titled "Har Ghar Bhagwa Chhayega". 23 year old Vijay Yadav has a smile on his face while watching this video on his mobile phone and he can't stop himself from humming this song.
Vijay is a sketch artist and is studying at Lalit Kala Akademi. While listening to this song, he says, "A lot of energy comes into the body. It seems that what happened to us at one time… There was a time, this happened to us and at what stage are we today? But come and stand."
Perhaps a formidable form of the energy that Vijay is talking about was seen in the month of April this year in Karauli in Rajasthan, Khargone in Madhya Pradesh, Jahangirpuri in Delhi and Roorkee in Uttarakhand.
These are the places where violent clashes took place between Hindu and Muslim communities on the occasion of Ram Navami, Hanuman Jayanti and Hindu New Year.
It was alleged that a big role in instigating all these violent incidents was played by the objectionable songs which were being played in the religious processions of Hindus.
A provocative song was mentioned over and over again.
The lyrics of this song are so objectionable that they cannot be written here. But it can be said with certainty that this song sounds less, more threats, in which a community is being told what will happen when Hindutva wakes up.
Less song, more threat
This controversial song was composed by Sandeep Chaturvedi, a resident of Ayodhya, in the year 2016. About a decade ago, Sandeep started by singing bhajans but a few years ago changed his course and started making songs that targeted the Muslim community with a mix of perceived nationalism and Hindu religion. He also got fame overnight from these songs.
Chaturvedi says that his song had been viewed millions of times on YouTube before his channel was suspended after thousands of complaints. They blame Muslims for reporting this song as inappropriate content.
Can music be a means of spreading hatred?
Sandeep says that he has lost millions of subscribers on YouTube, but does not tell how much money he was earning from YouTube.
He says that he spends around 20 thousand rupees to make a music video. He says, "Yeh paisa ki baat nahi hai. I was not earning much from YouTube. More important is the recognition I got as a nationalist-revolutionary singer."
Sandeep introduces himself as a "nationalist-revolutionary" singer.
He says, "Whether it is the issue of Ram temple, or nationalism and Hindutva or religion and society, I keep trying to bring a public awareness in the society through my songs."
There are many differences and questions on Sandeep Chaturvedi's definition of nationalism and Hinduism and this amalgamation. His critics say that he is targeting Muslims through his songs.
In response, Sandeep says, "There are people of all religions in India. So if we asked to say Jai Shri Ram, then what is the problem in that? We did not abuse anyone. Bhai Jai Shri Ram speak, show brotherhood, right? "
We told them that even if someone is not saying Jai Shri Ram, it cannot be taken out that he is against your religion. In response to this, he says, "Yes, I am not forcing him to say it… On the tip of the sword… I am saying this straightaway that Hindutva has woken up."
'It's not music, it's a call for war'
Sandeep Chaturvedi is just one example. If you take a cursory look at YouTube and other social media platforms, there are dozens of such songs available in which supporters of Hindu right-wing ideology are seen talking hatred against Muslims. Songs whose language is abusive and threatening. Many of these songs have been viewed millions of times.
The role of such songs has been repeatedly mentioned in the violent incidents between the two communities in the last few months.
Nilanjan Mukhopadhyay is an author and political analyst who has written books on topics such as the Babri Masjid demolition and prominent personalities of the Rashtriya Swayamsevak Sangh.
He says, "It is not music, it is a call for war. Music is being used to win the war. So this is a kind of misuse of music, which is being done not only today but for many years. It is never used less. Sometimes it increases more. In today's era, we are getting to see more.
Nilanjan Mukhopadhyay refers to the foundation stone laying program in Ayodhya in 1989, which was organized by the Vishwa Hindu Parishad.
"Just before that we saw an industry of audio cassettes. The different bhajans or so-called provocative slogans of that time… the slogans that were raised about Ram Janmabhoomi, the songs that were there. Audio cassettes were made which were played in processions."
Three decades later, the tone of such songs has become even more intense. Compositions proclaiming "Don't consider Hindu weak… this is the enemy's mistake" make no effort to hide who they are targeting. Such songs have ensured a material for many right-wing organizations to mobilize their activists.
Pinky Chaudhary, president of right-wing organization Hindu Raksha Dal, says that such songs send a good message to the youth associated with his organisation.
He says, "We have been making the youth aware. And doing it very well. And the youth really like the medium of the song. Their enthusiasm and morale increases."
Trying to 'correct' history
There is another aspect to this kind of provocative music. Not only hatred against a community, but also viewing the pages of history through the prism of religion.
Singer Upendra Rana, who lives in Dadri, Uttar Pradesh, about 50 km from Delhi, has become a popular figure in the area in the last two-three years.
The reason for this is the songs made by him which became very famous on YouTube.
Upendra Rana's YouTube channel has about four lakh subscribers. He has composed a variety of songs, but his identity was made only by those songs related to history in which Hindu warriors were presented as heroes and Muslim rulers as villains.
He says, "If we are making a song of history, a song on a historical warrior, then it will be like Ravana will be mentioned in front of Rama… If you take Bappa Rawal, Mohammed bin Qasim will come, Babur will come." If you take the name of Rana Sangha will also be mentioned. If you take the name of Maharana Pratap, then Akbar will come. If you take the name of Amar Singh, then Jahangir will come."
But Upendra Rana is no historian. Many such people, who understand the history they have heard, claim that they are now engaged in correcting the history.
Upendra Rana says, "Many true things have been hidden and what is false has been imposed on us."
There is no doubt that history in India has been a controversial subject.
Perhaps this is the reason why efforts are often made to create a new history by bringing various changes in the curriculum of school education.
Nilanjan Mukhopadhyay says that those who spread political myths and bring religion into politics, it is their endeavor that a khichdi of history and mythology should be served. Music is used to make it famous and increase the confidence of people in it.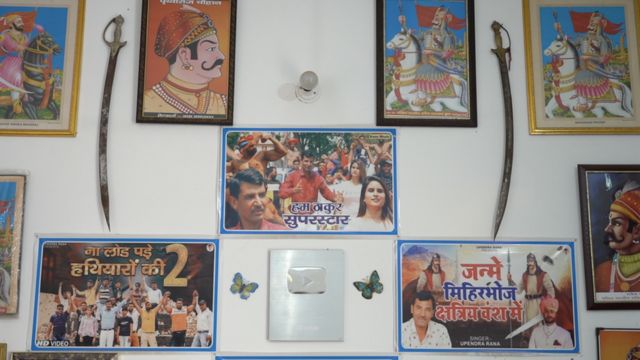 Rana believes that he makes a good income from the videos uploaded on YouTube.
"We're bringing foreign currency into India. YouTube pays in dollars and we get paid monthly," he smiles, pointing to YouTube's silver play button in the middle of a wall adorned with pictures of Hindu warriors.
Many songs of Rana have been viewed millions of times.
He says that it costs him around 8,000 rupees to make a music video because he now has the complete set-up to record audio and film and edit the video.
Upendra Rana explains, "We have a team consisting of a cameraperson and a video editor. We also have our own editing table."
sound weapons
Upendra Rana and Sandeep Chaturvedi are both part of a rapidly growing industry where music has become the latest weapon of choice against the minority Muslim community in India. These are songs whose language is either outright offensive or outright threatening.
The reasoning behind making these songs is that Hindus have suffered oppression of Muslims for centuries and now the time has come to settle the account.
Both Sandeep Chaturvedi and Upendra Rana say that they are not working for any political party. But both the singers have composed songs on Uttar Pradesh Chief Minister Yogi Adityanath. Sandeep has also composed songs on Prime Minister Narendra Modi.
When we met Sandeep Chaturvedi, he was working on a new song.
This song is about the controversy related to the recent Gyanvapi Masjid which is pending in the courts. But this does not make any difference to Sandeep Chaturvedi.
His song begins with these words: "The mosque was built by Aurangzeb to break the temple… Gyanvapi hai naam, where did Islam come from here." Reaching the climax of this song, abusive language starts against Muslims, who also say that "for fear of bulldozers, they are missing Nani."
Chaturvedi believes that his songs are full of excitement.
They say, "If I speak with love for my thing, for my right, and plead with folded hands, will you agree? You will not agree. Then we have to show excitement after all, right? Nothing comes from love. What is ours is taken away by fighting.
While propagating one religion, these songs become derogatory to the other religion. The big question is, how and why is their business increasing?
The creators of these songs say that their purpose is only to make people aware of Hindu religion and so-called nationalism. But the questions arising on the real intentions of such songs cannot be avoided.